Skip to main content
Sixth-formers pay up to £350 to cheat university admissions system


Personal statements being sold to would-be students by internet companies, Observer investigation discovers

Tess Reidy and
Conal Urquhart
Share on Facebook




Share on Twitter




Share via Email






This article is over 5 years old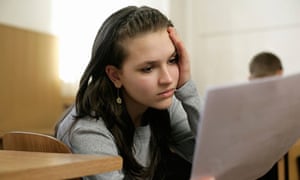 Sixth-formers are paying up to £350 for personal statements written by graduates to help them cheat the university admissions procedure, an Observer investigation has discovered.
Dozens of companies are advertising on the internet, offering to write students' personal statements for their entrance forms, although the Universities and Colleges Admissions Service (Ucas), which administers the university application system, states on its website: "Don't be tempted to copy another person's application materials, or download your personal statement from a website. There could be serious consequences to using other people's work."
The personal statements are a 600- word essay about the applicant, their interests and their life outside school. Admissions tutors use the statements as a way of getting a fuller picture of a candidate. The statements are particularly important as most universities do not interview candidates. Monday is the deadline for applications to Oxford and Cambridge universities and faculties of medicine across Britain. The deadline for other universities is early next year.
The personal statements are one aspect of the admissions procedure that critics believe benefits the children of better educated and well-off parents. Educated parents can use their own experience to help their children's application while richer parents can pay someone else to do it for them.
The home page of one of the many companies advertising its services to pupils and students on the internet highlights the advice from Ucas. It points out that a well-constructed personal statement is critical. The company also offers to write students' university essays.
The company, contacted by the Observer, says it employs only Oxbridge graduates and offers fully customised personal statements. The Observer asked it to provide a personal statement within 24 hours. After charging £350, the firm then emailed a questionnaire that asked for brief details of the student's studies, interests and work experience.
Ucas runs applications through fraud detection software that identifies well-known phrases and patterns and checks statements against a library of previous statements and other sources. However, personal statements written by an individual could evade the software. Ucas says that about 1% of university applications – about 8,000 – are identified as potentially fraudulent each year.
Cathy Gilbert, a director of Ucas, said it had examined the issue of personal statement services and differentiated between "editing" services and "writing" services. "It is important to understand that even a bespoke personal statement service carries the risk of being caught by our similarity detection software, which in turn flags this to the universities."
Gilbert said universities expected students to seek help with statements from teachers or parents but the statement must be the student's own work.
Ucas lists some of the most used phrases that would be easy for a professional writer to avoid. They include: "From a young age I have always been interested in …" and "For as long as I can remember I have been fascinated with …"
The company contacted by the Observer requires clients to agree to its terms and conditions. The conditions include a clause which states that any writing service sold by the company is sold with the aim of "inspiring" the student's own work and that clients must not submit the personal statements provided by the company as their own. None of these conditions are displayed on the website's main pages.
A spokesman for Cambridge, which interviews most candidates, said it did not place much importance on a personal statement. "Our primary criterion in admissions selection is academic merit, demonstrated by achievement in public examinations. Admissions tutors will use an applicant's personal statement to suggest lines of discussion during interview. An applicant who has not written their own statement is likely to find this problematic."
A spokesman for Newcastle University, which does not interview most students, advised applicants not to use personal statement companies. "Ucas has a system in place to identify statements which have similarities with other statements and alert both us and the applicant if this is the case. Our procedures involve requiring new personal statements and rejecting applicants who do not provide a satisfactory replacement statement within a given time," he said.
Many students get help from parents and teachers, which could be more valuable than services advertised on the internet. Private school teachers in particular pay close attention to students' applications, which is part of the service that parents expect in return for fees of up to £30,000 a year.
Jon Keighren, a spokesman for Manchester University, said payment for personal statements was just one of the problems in the university admission system. He said: "It is not just that a minority of people may be paying for these services: many, many more have the simple advantage of being from a family where mum or dad are themselves able to help them with their personal statements across the dinner table, entirely for free. This is natural, far more widespread and a much more pernicious aspect to unfairness in admissions."
Topics
Applying to university

The Observer
Higher education

Students

news
Share on Facebook




Share on Twitter




Share via Email




Share on LinkedIn




Share on Pinterest




Share on Google+




Share on WhatsApp




Share on Messenger



Loading comments… Trouble loading?
Skip to content | main University navigation | local section navigation | search
Study
Research
Business
International
Birmingham
Alumni
About
|
Clearing
|
Aston Online

More
Study

Course finder
Placement year
Languages for all
Scholarships
Open days
Prospectus
Undergraduate
Postgraduate
Teachers
Aston Online

Research

REF results
Research degrees
Aston Research Explorer
Graduate School
Research in use

Business

Short courses
Employee development
Hire a placement student
Conference facilities
Aston Centre for Growth
Enterprise Research Centre
Goldman Sachs 10,000 Small Businesses

International

Students
Exchanges
Partners & development
Agents
Aston in your country
Scholarships
English language programmes
Muscat University

Birmingham

Student life & satisfaction
Student bloggers
City living
Visiting

Alumni

Aston 50
Alumni in your country
Benefits & Services
Get Involved
Make a Gift
Stay in contact

About

Social media
News
Events
League tables
History
Map & directions
Term dates

Accommodation

Current students
Prospective students
International guarantee
Types of accommodation
Apply for accommodation

Careers+Placements

Aston Futures
Placement support
Graduate support
CV guidance
Employer services
Get advice & contact us

Student Resources

My Aston Portal
Blackboard VLE
Student Email
myAston App
Pay Outstanding Invoices
Make Payment Before Arrival
Online Store



Study




How to write a good personal statement

Schools
Aston Business School
Aston Medical School
Engineering & Applied Science
Languages & Social Sciences
Life & Health Sciences
Aston Graduate School
Aston Online
Muscat University
Student Services
Current students
Library Services
IT Services
MAP – My Aston Portal
Aston Futures
Student Email
Students' Union
Accommodation
Working at Aston
Jobs
Staff intranet
Aston Staff Portal
Easysite Author Login
Contact Us
+44 (0)121 204 3000
Website feedback
© Copyright
Aston University,
Birmingham, B4 7ET
Modern slavery act
Cookies
Privacy

Disclaimer
Documents Writing/Editing Help
---
SOPs , C.Vs , Resumes , Letters , Statements & more…
Reliable & Creative Personal Statements, Application Documents-Essays Writing & Editing Services.
Professional, Confidential and Authentic help by Experts alongside a 24*7 Customer Support by Trained Professionals.
We walk with you step by step & ensure that your document/work is a master piece.
100% Original Work:
Best Online Personal Document Editors for Hire | Urgent Writing or Editing Help | Specialized Writing Needs | Re-seller Services – Our Advantage
Order Personal Statement Writing | Write my Statement
Reliable Personal Statement Writers
Established academic institutions look forward to obtaining legitimate documents from individuals applying for admissions. This basically means that a poorly structured essay document will not be accepted. To come with an exceptional document, it's advantageous to order personal statement writing from a reputable site.
With the high number of persons who need to join learning institutions, the need to write the most excellent application papers has risen. This has led to a high demand for custom writing services, thus contributing to the sprouting of writing teams of which some are fraudulent.
Basically, everyone gets attracted to things that come at cheap prices as no one would hate to save up some cash. This, however, might be very costly if you will miss the chance you are seeking after. If you purchase custom help with statements writing from our firm, you won't be disappointed. There are many custom writing firms who will lend a helping hand at very cheap prices, but then realize that the quality of their services isn't up to the standards. This is why we recommend you use our custom help with personal statement writing services before you risk landing into illegitimate firms.
Since C.Vs, cover letters and SOPs are important documents in the application process, the personal statement writers always ensure they write unique documents that will convince the admission panel or the recruiting board that you not only have good grades but also unique skills, talents, and abilities that will benefit the institution.
Quality Personal Statement Writing Services
Reliable personal statement writing help can only be guaranteed by professional writers, who have been trained to offer the most outstanding services you can trust. With a very specialized recruitment procedure, without being academically sound and qualified one can't join our writing team. As a global firm that assists clients from various places, a client support system has been of great assistance as communication has never failed. Your call, email or live chat will never go unnoticed, thus be sure of the best assistance with statement writing when you liaise with us. When you are looking for a firm that you can fully trust, be giving us the first priority. Consult us at any time you feel "I need someone to write my statement". We are a firm that will never offer services that are low in quality under any circumstances. With a large panel of custom writers with the ability to provide quality services within any given deadline, you are assured that we are reliable. You should always let us offer you quality personal statement writing help, which will surely come at the right time. In addition to that, you will be served with high-quality services that come at very affordable charges. You will never be given a reason to doubt the credibility of your work. Order custom statement writing services from us and see what we can deliver. Need C.V structure samples to guide you? Do not hesitate to consult our C.V writing experts.
Buy Affordable Personal Statement Writing Services
The application process either for a job or admission into a learning institution is always competitive and only candidates with excellent qualifications and personal documents such as cover letters, resumes, and Sops will successful. Therefore, each individual should strive to come up with excellently written personal documents that are free from grammatical errors and spelling mistakes. If you quote, I need to "pay someone to write my personal statement", you will get our expert writers ready to help you. We help every client with work that is written according to the required format and structure. For instance, if you are struggling with writing a C.V, you can contact us for the best C.V. format help. Unfortunately, a larger percentage of individuals are unable to come up with excellent personal statements on their own. This is due to the fact that most of them lack the skills and expertise required to write their documents, in addition to the lack of adequate time to give attention to the writing process. For these reasons, it is common to find a lot of individuals seeking online personal statements writing help. Looking for help with cover letter writing? You can hire our experts and you will never regret. Fortunately, all our services are readily available online and clients only need to submit their "help me write my resume" requests to our online writers who are always available for twenty-four hours.
We offer Cheap Personal Statement Writing Aid
Maybe the last time you used custom statements writing services you were left completely bankrupt. Has this made you mistrust online services the more? Having in mind that we assist persons from all forms of financial background, we make it easy for our clients to obtain the best writing services and still remain financially stable. Therefore, trust us with your work, which we shall write and complete for you within your ability. Along with helping you create a professional paper affordably, supreme personal statement writing aid will never reach you not past the deadline you've given. As such, you should never let the limited time you have worry you as we have the best skills in writing a custom paper expertly regardless of the urgency. You should make us your permanent help provider, for we will always offer the best to you at any given time. You will be given the chance to obtain the best services that are guaranteed of originality and professionalism. When you feel "I need assistance with personal statements writing", we are the experts to link up with. Additionally, the writers have helped many clients to write different documents hence they understand what the employers or the admission panel look for in a cover letter, a personal statement, or a C.V. They will, therefore, customize the client's documents to meet these demands hence producing well-written documents that will stand out of the crowd. Therefore, if you have been applying for several jobs and you are not getting positive results, try outsourcing our cover letter writing help and experience the difference.

Personal Statements Help
Resumes
Cover Letters
Proposal Letters
C.V. Help
Letters Writing
Admission Essays
SOP Assistance
Personal Statements
Formatting & Editing
Personal Documents
Templates & Samples
Secure Online Writing Service
Legit SOP Writing Company

Original Writing Help
10% Off!!
Client's Testimonials
Thank you! That was very helpful, I am very grateful.

I am now doing my internship after a successful interview process, I regard the help I obtained from you……..
Professionally Done Papers…
Free Revisions…
Prompt Service Delivery…
100% Original…
Terms of service
Terms and Conditions
Privacy Statement